Three jailed over France 'train attack bluff'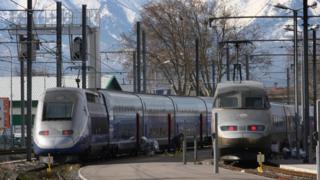 Three men in France have been jailed for faking a terror threat on a train to steal passengers' phones - only five days after the Paris attacks.
The group was travelling between Beziers and Perpignan in the southern Pyrenees region when they commandeered the train's intercom system.
They then played a Muslim call to prayer and told passengers to hand over their phones or face an attack.
They were found guilty of extortion and sentenced to up to 30 months in prison.
One of their lawyers said it was "a joke in very bad taste by foolish youths".
None of those sentenced, aged between 19 and 23 and from Beziers, was named by the court in Perpignan.
"It wasn't serious," the main defendant told the court. "We were just joking around. I have always condemned Islamic State and everything that happened in Paris."
One of the men, who is 21 years old and had converted to Islam, was also found guilty of supporting terrorism after police found pictures of him posing with an assault rifle and a jihadist banner on his phone.