Russia rejects Turkey criticism over 'missile launcher'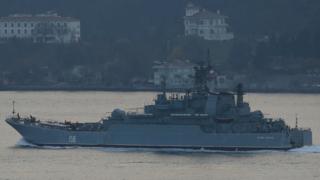 Russia has rejected Turkey's criticism after a sailor on a Russian naval ship allegedly brandished a missile launcher as the vessel passed through Istanbul.
Foreign Ministry spokeswoman Maria Zakharova said "the protection of a ship is the legal right of any crew".
Turkey on Monday summoned the Russian envoy over the 4 December incident.
The countries' bilateral relations have deteriorated sharply since Turkey last month shot down a Russian Su-24 bomber, which it said was in its airspace.
The Russian jet pilot was killed in the incident, on the Turkey-Syria border.
In other developments:
Russia says the Su-24 bomber's flight recorder has been found and the data will be analysed in the presence of international experts
Russia's foreign ministry said a film crew from Russia's main state TV news channel was detained in Turkey's Hatay province - which borders on Syria - on 7 December. It condemned Turkey's decision to deport the journalists. Turkey has made no public comments on it yet
Russia moved seven Mi-24P attack helicopters and Mi-8МТ transport helicopters to its Erebuni airbase in Armenia, not far from eastern Turkey
'Provocation'
In a statement (in Russian), Ms Zakharova said the Caesar Kunikov vessel - where the Russian marine was photographed allegedly carrying a portable air-defence missile system - did not violate the 1936 Montreux Convention, which regulates ship movements through the Bosphorus Straits.
She also said that the Turkish side had failed to explain to Russian diplomats what exactly the alleged violations were.
Images earlier published in Turkish media appeared to show the Russian on deck, resting the launcher on his shoulder.
Turkey expressed outrage over the photographs.
"The showing off of a missile by a soldier on a Russian warship, or other things such as anti-aircraft weapons, is pure provocation," Foreign Minister Mevlut Cavusoglu said on Sunday, according to Turkey's Hurriyet Daily News.
Turkey is obliged to allow all merchant ships through the straits, which runs through Istanbul, during peacetime. Military vessels belonging to Black Sea countries also enjoy unhindered access.
For Russia it is the only passage its Black Sea fleet can use to access the Mediterranean and the rest of the world's oceans.
---
More on the Turkey-Russia row