Dissident republican arms find: Jim Smyth bailed in IRA membership case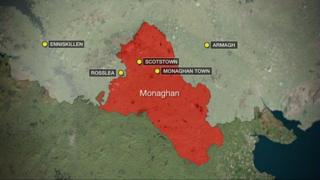 A man charged with IRA membership after a large dissident republican weapons cache was discovered in the Republic of Ireland has been granted bail.
Jim Smyth, from Aghalissabeagh in Scotstown, County Monaghan, was brought before Dublin's Special Criminal Court.
He was arrested and charged last month when guns, including AK47 rifles, mortars, detonators, detonating cord and other bomb components were found.
The 43-year-old was granted bail despite objections from the police.
He faces a formal charge of membership of an unlawful organization, styling itself the Irish Republican Army, otherwise Óglaigh na hÉireann, otherwise the IRA on November 25, 2015.
The arms cache was discovered by Irish police in Scotstown, close to the border with Northern Ireland, in late November and Mr Smyth was arrested in Carrickmacross.
A detective inspector told the three-judge, non-jury court that police were objecting to bail on grounds of the "seriousness of the charge".
However, one of the judges said: "In this particular case, with a charge merely of membership, a history of no previous convictions and strong roots in the community, without doubt Mr Smyth is entitled to bail."
The court ruled that the accused must surrender his passport, obey a curfew and sign on daily at a police station.
Mr Smyth was also told he must not leave the jurisdiction nor associate with anybody charged with a scheduled offence.
He was released on his own bond of 20,000 euros (£14,500).