Vatican leaks scandal: Pope's advisers may be called as witnesses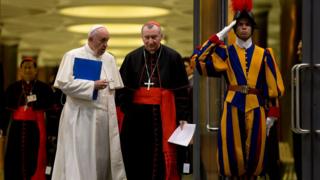 A Vatican judge trying five people over the leaking of secret documents has agreed to let some of Pope Francis's senior advisers be defence witnesses.
Officials who could be called include his Secretary of State, Pietro Parolin.
Those on trial include two journalists who published books detailing alleged financial mismanagement at the Vatican, and three members of a papal commission accused of leaking documents to them.
One of them, a priest, alleges a fellow defendant seduced him.
The two books published last month, Avarice by Emanuele Fittipaldi and Merchants in the Temple by Gianluigi Nuzzi, paint a picture of clergy greed and financial waste.
Vatican leaks lift the lid on Pope's financial battle
Vatican reforms may be starting to bite
On trial alongside the two Italian writers are a Spanish priest, Monsignor Angelo Lucio Vallejo Balda, his secretary Nicola Maio, and Italian public relations specialist Francesca Chaouqui.
Both the monsignor and Ms Chaouqui were members of the commission set up by Pope Francis to investigate the Vatican's murky finances two years ago.
The priest says Ms Chaouqui put pressure on him to leak the documents - and that she seduced him in a hotel in Florence. She denies this claim.
Ms Chaouqui insists that she acted at all times in the best interests of Pope Francis himself.
Monday's ruling that Mr Parolin could be called as a witness came at the request of Ms Chaouqui's defence team.
The court also ruled that electronic communications including WhatsApp messages between Ms Chaouqui and the monsignor could be analysed, Italian news agency Ansa reported.
The case follows an earlier "Vatileaks" scandal in 2012.
In that case, the then Pope Benedict's butler was convicted of leaking documents from the papal desk.