Monaghan councillor Hugh McElvaney 'sought £10,000 for his help'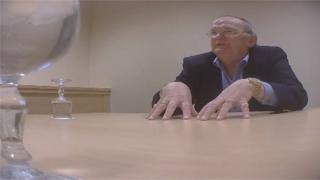 A County Monaghan councillor was heard on Irish television seeking £10,000 to help a wind farm get planning permission.
Councillor Hugh McElvaney, who recently resigned from Fine Gael, sought the money after being approached by an undercover reporter.
The journalist was acting on behalf of a bogus company for Irish broadcaster, RTÉ Investigates.
Mr McElvaney has denied any wrongdoing.
He is one of three councillors who agreed to help and all three have denied doing anything wrong.
Independent Donegal councillor John O'Donnell was recorded as saying he would seek payment through another person, while Fianna Fáil Sligo councillor Joe Queenan was recorded as saying he was willing to act as a go-between for the fictitious company's architects and the local authority.
However, he was not looking for a payment for himself, but rather for an investment into an agri-feed business which he was planning.
Mr McElvaney was secretly recorded a number of times for the programme.
In one recording he said: "You need to sweeten the man up, you know what I mean... You would need to put sterling on the table.
"Ten grand would be a start," he added.
At a later meeting, he was recorded as saying he was "only fooling" that he was looking for £10,000, that he did not know how much he wanted but that if the project was a success: "I want loads of money."
Mr McElvaney told the Irish Independent on Sunday evening that he knew it was a "sting" operation, but that he went along with it to expose what he called RTÉ's "dirty tricks" campaign.
"I had to make it as juicy as possible or there would be no show and I had to make it quite sexy, so I answered all her questions to make her interested," he said.
"It takes nerves of steel to do this. I have certainly incriminated myself, but I had to do this to expose RTÉ, that's the type of man I am. Everyone knows I would never take a bribe."
Labour's junior minister with responsibility for rural transport, Ann Phelan, amended her 2014 statement of business interests after RTÉ contacted her about a second house she owns that was not on the register.
Five national politicians, including Fine Gael TD Áine Collins and Senator Mary Ann O'Brien, did not disclose directorships of companies in the register of interests.
Ms Collins said the two firms she failed to mention were the result of an administrative error and that she would make a correction.
Ms O'Brien also forgot to declare a firm, which was part of the corporate structure of the Lily O'Brien's chocolate company, which she founded.
Independent TD Noel Grealish said he should have included a glass manufacturing company which was in liquidation, while Fine Gael Senator Tom Sheahan said he would add a non-trading company to his register.
Fine Gael TD Tom Barry did not include three "agriculture and real estate" companies on his register for 2014 but has since done so after being contacted by the programme.
Dozens of councillors also had gaps in their declarations with their properties and business interests regularly missing from official documents.