Peter Jackson: Turkey 'Gollum' tweet is Smeagol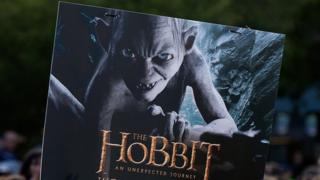 Peter Jackson has waded into a court case in Turkey, which accuses a doctor of insulting President Recep Tayyip Erdogan by comparing him to Gollum.
In a statement, the Lord of the Rings director said photos shared by Bilgin Ciftci actually showed the "loveable" Smeagol.
Dr Ciftci faces imprisonment after tweeting photos of Mr Erdogan and the character in similar poses.
The court had asked experts to decide whether Gollum is good or evil.
In a statement made alongside screenwriters Fran Walsh and Philippa Boyens, Mr Jackson told the Wrap website: "We can state categorically: none of [the pictures] feature the character known as Gollum. All of them are images of the character called Smeagol."
"Smeagol is a joyful, sweet character. Smeagol does not lie, deceive, or attempt to manipulate others.
"He is not evil, conniving, or malicious - these personality traits belong to Gollum, who should never be confused with Smeagol."
Mr Ciftci's lawyer, Hicran Danisman, told the Associated Press she had been forced to argue that Gollum was not evil after a freedom of information defence failed.
---
Turkey's hard line on insults:
Between August 2014 and March 2015, 236 people investigated for "insulting the head of state"; 105 indicted; eight formally arrested
Between July and December 2014, Turkey filed 477 requests to Twitter for removal of content, over five times more than any other country and an increase of 156% on the first half of the year
Reporters Without Borders places Turkey 149th of 180 countries in its press freedom index
During Mr Erdogan's time in office (Prime Minister 2003-14, President from 2014), 63 journalists have been sentenced to a total of 32 years in prison, with collective fines of $128,000
Article 299 of the Turkish penal code states that anybody who insults the president of the republic can face a prison term of up to four years. This sentence can be increased by a sixth if committed publicly; and a third if committed by press or media