Missing Chihuahua reunited with owners after five years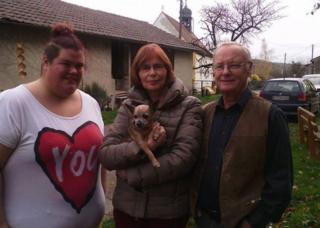 A runaway Chihuahua has been reunited with his owners - five years after going missing.
Charlie, now 15, disappeared in 2010 during a holiday with his Austrian owners in Aschbach, north Germany, reports say.
A passerby found him on a street in the same area in November. A vet traced his owners using his microchip.
Charlie was found overweight and with rotting teeth - but is now happily recovering with his family.
The Schachinger family found him as a puppy in a rubbish bin 15 years ago, according to Austrian media reports.
"Charlie recognised us," said the daughter of the family, who was not named. "He greeted us by licking us and kept going round us."
"This year, Charlie's return is our best Christmas present," the family said.