County Monaghan: Searches resume after weapons and explosives find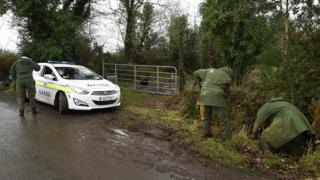 Searches have resumed on Wednesday following a weapons and explosives find in the Republic of Ireland that police said dealt a "significant blow to dissident republicans".
AK-47 assault rifles were discovered in Scotstown, County Monaghan, close to the border with Fermanagh near Rosslea.
Police found guns, mortars, detonators and other bomb parts.
They were found in an operation that began last week, targeting dissident republican activity in the border area.
Insp James O'Leary, of Monaghan police station, said the weapons would have posed "a very significant threat to security personnel on both sides of the border".
He said the search operation would continue for "a number of days" and that police "would leave no stone unturned".
It involves officers from the Irish police's anti-terror division, its special detective unit, dog handlers and its armed emergency response unit as well as local officers.
John Mooney, Security Correspondent for The Sunday Times, said he believed the weapons originated from the Provisional IRA, but more recently had been under the control of dissident republican groups.
"Scotstown was a key hub for their [Provisional IRA] engineering department but my understanding is that these weapons would have been under the control of dissidents that are associated with the New IRA," he said.
"Though I have to say that in some ways comes with a health warning, because a lot of these groups now are operating together.
"But I understand it is associated with people who would be involved in the manufacture of bombs and that type of activity for the New IRA."