Four Kosovans arrested over 'Pope threats'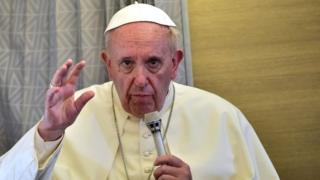 Four Kosovans have been arrested in Italy and Kosovo, suspected of being part of a jihadist cell and accused of making threats against the Pope, judicial officials say.
Three were arrested in Italy and one in Kosovo.
They are accused of condoning terrorism and inciting racial hatred, Italian police say.
They were also said to have made threats against the former US ambassador to Kosovo.
An Italian police official said the four were very active on the internet, promoting their jihadist cause, but did not appear to have been involved in any specific plots, Reuters news agency reports.
"They were threatening the Pope, celebrating the recent attacks in Paris and threatening the former US ambassador to Kosovo," said Carmine Esposito, a police chief in the northern Italian city of Brescia, the centre of the investigation.
The most alarming messages were aimed at the Pope, chief prosecutor Tommaso Buonanno is quoted as saying by the Associated Press news agency: "Remember there won't be any pope after this one. This is the last. Don't forget what I am telling you."
Two of those held in Italy will be expelled shortly, while the third will be allowed to stay in the country, but placed under special surveillance as the investigation continues.
Italy has increased its controls on Islamist suspects following the 13 November attacks in Paris that killed 130 people.