Athens bomb explodes near Greek parliament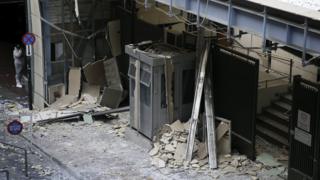 A powerful bomb has exploded in central Athens, causing considerable damage but no injuries.
The night-time blast - outside the Greek Business Federation offices and close to parliament - shattered windows in nearby buildings.
The federation's offices and nearby buildings including the Cypriot embassy were badly damaged.
Greece's continuing economic crisis has been marked by a series of bomb and arson attacks.
However, there have been few explosions in the capital since the left-wing Syriza party came to power in January.
The bombers had phoned a warning to Greek newspapers, and police were able to cordon off the area close to Syntagma Square before the bomb went off.
No group has so far said it caused the blast but several anarchist and far-left groups have targeted banks and other companies in the past.
Cypriot ambassador Kyriakos Kenevezos said: "Our embassy absorbed the full impact of the blast.
"All the exterior windows were blown out and there is incalculable damage to the interior from the ground floor to the sixth floor."