Brussels terror threat: 'Weird atmosphere'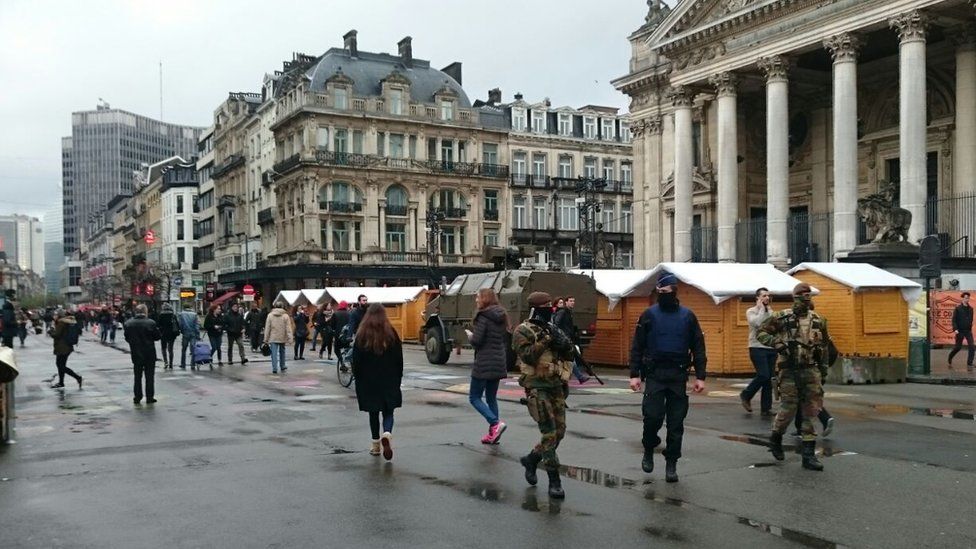 Brussels has been placed on its highest level of terror alert.
Prime Minister Charles Michel said: "Several individuals with arms and explosives could launch an attack... perhaps even in several places."
This comes a week after Paris suffered a series of attacks that killed 130 people.
People in Belgium have been describing what the atmosphere is like in the Belgium capital.
Kiran from Brussels says: "Army and police are on patrol in the Sainte Catherine area of Brussels.
"Rue Neuve the main shopping street in Brussels is fully closed.
"On one main road running from north to south from the station I could see every 100m there were army trucks or police patrols.
"From my house earlier I could see a large police and army presence."
@IdairaRobayna tweets what the feeling is like in Brussels:
@OphelinhaP tweets her concerns for the coming days:
University student, Marie-Emmanuelle André-Dumont says it's been a day full of insecurities.
"Everything has been cancelled, or almost. I feel like the city is in a state of war.
"I was actually out in the early hours on Saturday when I first saw lots of police and military vehicles on the streets suddenly.
I planned to go to a concert and shopping which has now been cancelled. My little brother's soccer game has been cancelled too because there's no public transport.
It's a strange atmosphere. We never knew anything like this."
Chris Foreman is spending the weekend in Brussels with his girlfriend but says he has been in his hotel for most of the day because of the security alert.
"We were walking down the street last night looking for a restaurant and we saw at least 15 armoured military and police vehicles pass by at top speed with the sirens ringing.
"We decided to play it safe and not go to the centre.
"Today has been another 'play it safe' day and now we are thinking about how to get to the airport tomorrow and whether or not there'll be delays or cancellations etc.
"Suffice to say, all hopes of a nice city break have been dashed.
"We hope nothing happens and that life in Brussels, and the rest of Europe, can go on as normal."
@NiallForKidney tweets about the atmosphere in the city:
Compiled by Andree Massiah