Paris attacks: Merkel backs decision to cancel football match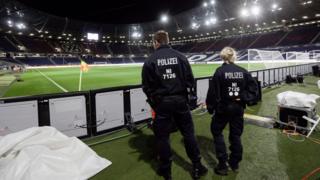 German Chancellor Angela Merkel has defended the decision to call off Germany's football match with the Netherlands on Tuesday evening.
She said finding the balance between "liberty and security" was difficult, but "it was decided, correctly, to err on the side of caution".
The friendly in Hanover was called off less than two hours before kick-off.
The city's police chief said they had "received specific indications that an attack with explosives was planned".
A train in Hanover was also stopped and searched before being given the all-clear to continue its journey.
Mrs Merkel and several members of her cabinet had arrived in Hanover for the game when it was suddenly called off.
Those who had already begun to stream into the 49,000-capacity HDI Arena were told to return home "quickly, but without panic".
Germany's Minister of the Interior Thomas de Maiziere told a news conference: "The match was called off on my recommendation. There is a high level of threat for Germany and Europe."
He refused to give details about the threat, saying "part of these answers would upset the population".
Germany's national football team was playing France at the Stade de France in Paris when it was targeted by suicide bombers on Friday night as part of a wave of attacks across the city. No civilians died in the stadium attack, but 129 people died and more than 400 were wounded elsewhere.
German football league president Reinhard Rauball said he had phoned the team on the bus as they were just a few kilometres from the stadium on Tuesday to tell them the game was cancelled.
Both teams were taken to a safe, undisclosed location until they were given the go-ahead to leave.
"That we would go through this twice in four days is not something I could imagine," Mr Rauball, visibly shaken, told reporters. "It is a sad day for Germany and a sad day for German football."
Belgium's friendly with Spain in Brussels, also scheduled to be played on Tuesday, was called off on Monday because of security fears in the wake of last week's attacks in Paris.
England's match against France at Wembley on Tuesday night went ahead, with tributes paid to the 129 people killed in Paris on Friday.