Storm Barney: Thousands without power in Republic of Ireland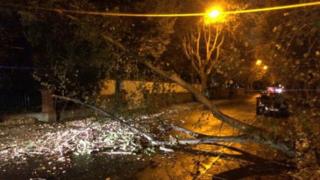 Thousands of people are without power in the Republic of Ireland as the effects of Storm Barney take hold.
RTÉ reports that a number of flights have been cancelled at Cork airport and weather warnings are in place.
A number of power outages have also been reported with about 25,000 customers affected.
Aer Lingus regional flights to and from Edinburgh, Birmingham, Manchester and Bristol have been cancelled.
This is also the case with some City Jet flights to and from London City Airport.
The airport is advising intending passengers to check with their airlines.
There have also been some flight diversions from Dublin Airport to Belfast due to the weather.