Russian media change tack on doping scandal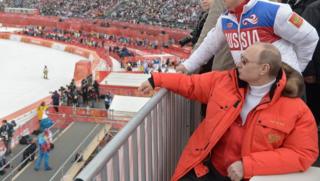 The Russian media have performed a U-turn in covering allegations that the country runs a state-sponsored doping programme for athletes.
Within days, commentators went from dismissing the claims as a plot against Russia to insisting that the guilty must be punished.
In doing so, they mirrored similar changes in the official Russian line.
On Monday, the day the World Anti-Doping Agency (Wada) published the accusations, Russia's Sports Minister Vitaliy Mutko said they were groundless. "They don't like anything we do," he told Interfax, a Russian news agency.
'Anti-Russian' allegations
This line was quickly picked up by Russian TV, which argued that Wada's allegations were baseless and defamatory.
State-run Channel One echoed Mr Mutko's remarks, saying that the Wada report was "profoundly politicised and aimed against our country".
NTV television, a channel run by gas giant Gazprom, suggested that if Russian athletes were to be banned from international competitions, this would "amount to anti-Russian sanctions by the West". Russia is the subject of economic sanctions imposed by the West for Moscow's involvement in the separatist conflict in eastern Ukraine.
The following day, Tuesday, the government's official daily Rossiyskaya Gazeta found Wada's move vengeful and predictable. "Of late, imposing sanctions has become a favourite pastime for Western politicians," the paper quipped. "Now they may target athletes as well."
Punish the guilty
But on Wednesday Russian officials admitted that their country may indeed have a problem with doping. The head of the All-Russia Athletics Federation, Mikhail Butov, said the "mentality of coaches" had to change, while President Vladimir Putin said Russia would do all it could to eradicate doping in sport.
This triggered a spectacular change in the tone of TV coverage, while indignation lingered on in some Russian newspapers (some of which had gone to press before President Putin spoke).
"Of course there is a hidden political agenda. Back-stabbing Russia is the flavour of the month," Olympic silver medallist Olga Bogoslovskaya told Izvestiya, a pro-government daily.
But TV appeared more up-to-date with the official line. Outrage was replaced with reconciliatory noises, as presenters pledged Russia's full cooperation with world anti-doping agencies.
"The main task is to understand the situation and punish the guilty and most importantly defend the innocent, especially sportsmen," said a presenter on Rossiya 24, a state-owned TV channel.
BBC Monitoring reports and analyses news from TV, radio, web and print media around the world. You can follow BBC Monitoring on Twitter and Facebook.