Germany migrant boy murder: Suspect admits to earlier killing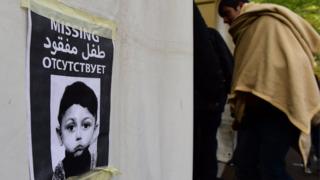 Prosecutors in Berlin say the man suspected of murdering a four-year-old migrant boy has admitted killing another young boy, Elias, missing from his home in Potsdam since July.
The suspect, named only as Silvio S, was arrested on Thursday. The body of a child was found in his car.
It is thought to be that of Mohamed Januzi, who was kidnapped from a refugee registration centre in Berlin.
Silvio S reportedly said he had buried six-year-old Elias in an allotment.
The fate of the little boy, who disappeared without a trace from outside his home in Potsdam, had been big news in Germany.
Mohamed Januzi came to Germany with his family from Bosnia-Hercegovina more than a year ago. He was at the registration centre with his mother and siblings when he went missing on 1 October.
Police released CCTV images of a man leading the child away from the centre by the hand.
The 32-year-old suspect was arrested at his family home in the state of Brandenburg, outside Berlin, after a tip-off from his mother.
German media reports say the murders were sexually motivated.