Ankara attack: Who were the victims?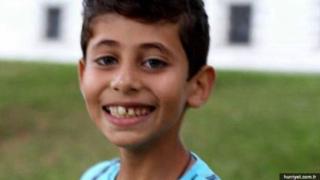 The youngest person to die in the blast was nine-year-old Veysel Atilgan. He was at the rally with his father, Ibrahim Atilgan, 55, who was also killed.
Their funeral took place in their hometown Batman yesterday. Father and son were buried next to each other.
Veysel's teacher Sabahat Yildirim was devastated by the news of losing her little student and wrote him a goodbye letter.
"My dear student Veysel Atilgan, you carry a big heart in your little body and you were targeted by murderers while holding your father's hand, because you called for peace. You were subject to a fascist attack at the heart of the capital," she wrote.
The letter continued as below:
"I cannot forget the picture of you playing with your friends. Now tell me my child, my beautiful child, how can I explain to your friends the meaning of peace?
"How can I teach them without mentioning your name. I cannot mention you without mentioning the word 'peace'. But then what if your friends ask me 'Is peace equal to death my teacher?'"
---
İzzettin Cevik
This picture shows İzzettin Cevik and his wife Hatice Cevik holding on to one another just after the twin bombs detonated.
Cevik went to the peace rally with his wife, his daughter Basar Sidar, a university student in her final year, and his sister Nilgun Sidar. His daughter and sister were standing away from them, close to the bombs, and lost their lives.
It was later discovered that he was a teacher at a school in Suruc, where another big blast happened last July, killing 32 youth activists.
Speaking to Hurriyet newspaper as he returned to his hometown for the funerals, Cevik explained what his family had been through.
"We had faith in people, we were saying peace, nothing else. Just peace. And they did this to us in the heart of Ankara," he said.
"We are in a great pain. All I want is to bury my loved ones."
---
Ankara bombings: Read more
"This is the worst scene I've ever seen" - Shock and anger in Ankara as mourning begins
Blasts divide Turkish media - Not all commentators share the view that IS is to blame
The suspects - A look at the groups that might be responsible
Who are the Kurds? - The long history of the Middle East's fourth-largest ethnic group
Turkey v Islamic State v the Kurds - What's going on?
---
Elif Kanlioglu
Elif Kanlioglu was 19 and studying at university. She was the daughter of the Turkish labour party's city director in Aydin. She travelled to the rally from Mersin. This photo of her and her mother was shared on Elif's Twitter account on 24 July. She says "We are ugly but I love it. My dear mother."
---
Meryem Bulut
Meryem Bulut, 70, nicknamed "Mother Meryem" by her friends, was killed in the attack on Saturday. She was from the south east of Turkey and of Kurdish origin.
Her son was taken into custody in the 1990s and she never heard from him again. Since then she has been part of the "Saturday Mothers" group, mothers who gather every Saturday to protest at the disappearances of sons and husbands during the 1990s - when the conflict between Kurdish militants and the government was at its height.
Meryem's grandson was fighting against Islamic State with a Kurdish militia group in Syria and was killed last year.
This photo shows Meryem with pro-Kurdish HDP party MP Filiz Kerestecioglu. The MP shared it on her Twitter, writing: "You turned all of our photos into a history of massacre! I would meet Meryem every year on June 7, wherever she is. #MotherofPeaceMeryemBulut"
---
Yilmaz & Gulhan Elmascan
Yilmaz and Gulhan Elmascan were married last year. Their wedding photos were shared widely on social media after they died in the bombing.
---
Dijle Deli
This selfie was taken by university student Dijle Deli on her way to the rally in Ankara. She shared it on her Facebook account with the message: "We are coming to Ankara to bring the peace!"
---
Youth group and Eren Akin
Another photo was taken by the members of the opposition CHP party's youth branch in Malatya. Of the group, 11 were killed and four are still in serious condition. One of the victims, Eren Akin, had recently tweeted this picture taken with CHP leader Kemal Kilicdaroglu.
---
Ahmed Alkhadiyi
A Palestinian man was among the dead. Ahmed Alkhadiyi was working as an Arabic teacher for children.
---
Kubra Mollaoglu
Kubra Meltem Mollaoglu was a parliamentary candidate for the pro-Kurdish HDP party. In her tweet she says: "We are with our co-leader Selahattin Demirtas. NO MATTER WHAT WE SAY PEACE. NO MATTER WHAT WE SAY HDP."