Portugal vote: Governing coalition ahead, exit polls suggest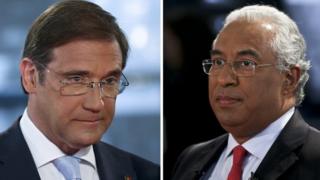 Exit polls and early results suggest Portugal's centre-right governing coalition has won Sunday's election.
With most votes counted, the coalition is ahead with about 39%, followed by the Socialists on just under 32%, official results show.
The poll was seen as a referendum on four years of spending cuts.
The governing coalition had vowed to continue the policies, in place since 2011 after it was forced to seek a eurozone bailout.
The opposition Socialists, led by Antonio Costa, and other left-wing groups had criticised the cuts.
Unemployment has been falling for two-and-a-half years, but many regard the recovery as fragile.
The centre-right Social Democratic Party, led by Prime Minister Pedro Passos Coelho, and its right-wing ally, the People's Party, put up joint lists.
Read more: Coalition hopes to survive austerity anger
Portugal economy figures
12%
of the workforce is unemployed
20%
of people live below the poverty line
485,000 emigrated from Portugal between 2011 and 2014

125% debt to GDP - the second highest rate in the European Union
AP