New Greek minister Kammenos quits in tweets row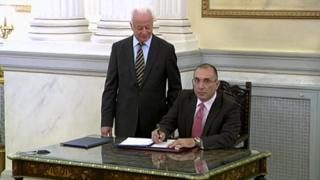 A junior minister in the new Greek government has resigned over anti-Semitic and homophobic remarks less than 24 hours after being appointed.
Dimitris Kammenos was asked to stand down as outrage mounted over comments he apparently posted on social media.
One post earlier this year compared the EU to the Nazi death camp at Auschwitz.
Mr Kammenos, of the right-wing Independent Greeks party, said someone else had been managing his accounts and called on police to investigate.
Independent Greeks leader Panos Kammenos said the deputy minister for infrastructure and transport would resign until the truth was established.
'Economic holocaust'
Hours earlier, Dimitris Kammenos, who is not related to his party's leader, had been sworn into the cabinet of Prime Minister Alexis Tsipras.
Mr Tsipras's left-wing Syriza party won 35.5% of the vote in general elections on Sunday but needed the support of Independent Greeks as junior coalition partner to form a majority.
Syriza MPs condemned the appointment. Writing on Facebook (in Greek) one Syriza MP, Vasiliki Katrivanou, expressed "disappointment and indignation" at the selection and called for Mr Tsipras to act.
Mr Kammenos had mocked pro-EU demonstrators in June by posting a doctored picture of the gate to Auschwitz on his Facebook page, replacing the words "Arbeit Macht Frei" (Work Sets You Free) over the gate with "We Stay in Europe".
The Central Board of Jewish Communities in Greece launched an immediate protest.
Mr Kammenos tweeted by way of apology: "The comparison may have been unfortunate but there is an economic holocaust under way in my country."
In an earlier rant he implied that Jews were behind the September 11 terrorist attacks on the World Trade Center, repeating a debunked conspiracy theory: "And let's not forget that among the 2,500 Jews working at the Twin Towers not one went to work that day."
He had also been accused of writing tweets and Facebook posts that contain racist and homophobic comments.
The accounts were deactivated after Mr Kammenos was named as a member of the government.
In a statement on Wednesday he apologised, saying: "I categorically condemn racism, homophobia and anti-Semitism."
He said his accounts had been hacked in the past.
According to Greek media, Alexis Tsipras called his coalition partner Panos Kammenos and asked him to investigate the authenticity of the posts.