Migrant crisis: Croatia to allow migrants to travel north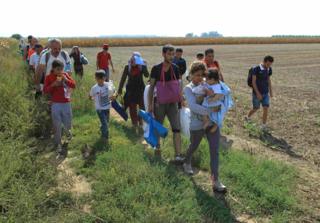 Croatia says it will allow migrants to travel on to northern Europe, opening up a new route a day after Hungary sealed its border with Serbia.
More than 150 migrants have crossed into Croatia from Serbia, with some of those stranded on Serbia's border with Hungary making a similar trip.
At the Serbia-Hungary border, Hungarian riot police have fired tear gas at migrants who were trying to break through a border post.
Many migrants want to reach Germany.
New border restrictions and a row over allocating migrants have exposed bitter divisions in Europe over the crisis.
The clashes at the Serbia-Hungary border on Wednesday afternoon occurred after police sealed a key crossing point near the town of Roszke. It has been used by tens of thousands of migrants to enter the European Union's Schengen zone, which allows people to travel between countries without restrictions.
The BBC's James Reynolds, at the scene, reports that migrants stranded on the Serbian side chanted "Open open", and threw plastic water bottles at the police, who forced the crowd back by firing tear gas.
---
More on the migrant crisis:
The refugees who chose Brazil over Europe
Five 'happy refugees' pictures that went viral
---
The BBC's Lyse Doucet says buses, vans and cars have been taking migrants away from the Serbia-Hungary border area towards the Serbian capital, Belgrade, and the border with Croatia.
Hungary declared a state of emergency in the border area on Tuesday, with hundreds of army and police deployed to enforce new laws making it an offence to breach a razor-wire border fence.
The first trials of refugees detained for illegal border crossing have been held in the Hungarian city of Szeged.
Ahmed Suadi Talib, an Iraqi who was studying in Syria, was the first to be convicted under the new law, and was excluded from Hungary for one year.
Speaking through a translator, he told the court he had fled Syria to escape Islamic State. He entered Hungary via a hole in the border fence, he said, and did not know crossing into Hungary was illegal.
The EU's border agency says more than 500,000 migrants have arrived at the EU's borders so far this year, compared with 280,000 in 2014.
Many are fleeing conflict and poverty in countries including Syria, where a civil war has been raging since 2011.
The migrants have been crossing from Turkey, with about 1,000 in the city of Edirne on Wednesday, waiting to organise a crossing into Greece. Their journey would then take them to Macedonia and Serbia.
Until Monday, most poured into Hungary and then crossed into Austria to reach Germany. Both Germany and Austria have introduced tighter border controls to control the flow.
Trains from the Austrian city of Salzburg to Germany have been halted, leading to a build-up of migrants at the city's station. Several hundred people have left the crowded station and are now walking towards Germany.
The UK is set to welcome the first Syrian refugees to be taken in under the government's expanded resettlement scheme "in the coming days, Home Secretary Theresa May has said.
The UK has pledged to take up to 20,000 refugees over the next five years.
---
At the scene: James Reynolds, BBC News, Serbia-Hungary border
Several hundred refugees and migrants are milling about here on the last few metres of Serbian territory. In front of them, the border gate into Hungary is locked. A line of Hungarian police wearing riot gear stands on the other side of a roll of razor wire.
"Open the gate, open the gate," chants a group of several dozen migrants and refugees.
One man half-scales the gate and begs the Hungarian police to let everyone in. But he gets no response.
Further back in the makeshift encampment, the atmosphere is much calmer. Volunteers distribute food and drink from vans. Next to a TV satellite truck, several people charge their smartphones. Refugee families rest in their tents.
"I will stay here forever," says Saleh, a law student from Damascus. "I can't go back."
Follow James Reynolds on Twitter
---
At the scene: Guy Delauney, BBC News, Serbia-Croatia border
Dozens of refugees walked through fields into Croatia from the official Serbian border crossing at Sid.
Several told me they were hoping to reach Slovenia and the Schengen area. Others shouted "Thank you, Serbia" as they left.
Croatian police vans were waiting for the group as they crossed the border. All of them boarded without a struggle.
---
Croatia says it is ready to receive migrants or "direct" them to where they want to go.
Serbian media say at least 10 buses were heading to the town of Sid, near the Croatian border, from Presevo near Serbia's southern border with Macedonia.
One of those who arrived on Wednesday, Amadou from Mauritania, told AFP news agency: "We heard that Hungary was closed so the police told us we should come this way."
Croatia's Prime Minister Zoran Milanovic told parliament that authorities were "ready to receive or direct those people where they want to go.
"They will be able to pass through Croatia and we will help, we're getting ready for that possibility," he said.
Migrants have been crossing into Croatia on foot - avoiding the official border crossing point. Police are registering them before taking them to reception centres.
Croatian media have warned of the dangers posed by landmines dating back to Croatia's war of independence in the early 1990s, even though experts say the areas are clearly marked.
The Serbian minister in charge of the government's committee on migrants, Aleksandar Vulin, argued that the border closure by Hungary was unsustainable for his country.
Are you seeking refuge in Europe? Will you be heading to Croatia? Please email haveyoursay@bbc.co.uk.
Please include a contact number if you are willing to speak to a BBC journalist. You can also contact us in the following ways: