1916 Rising centenary: Schools receive Irish tricolour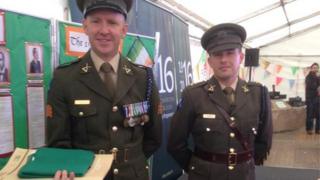 Primary schools in the Republic of Ireland will receive a handmade Irish tricolour flag as part of an initiative marking the Easter Rising centenary.
The 1916 event saw rebels take over a number of buildings in Dublin as part of an uprising against British rule.
British troops put down the rebellion and many ringleaders were executed.
Schools will also receive a copy of the 1916 proclamation, the document that declared the establishment of an Irish republic.
Members of the Irish Defence Forces will raise the Irish national flag at each school and read from the proclamation between now and March 2016.
Future aspirations
As part of the programme of events, pupils will be invited to write a new proclamation to reflect the hopes and aspirations of their generation.
They will also be encouraged to research their own family history around the time of the Rising.
The initiative will culminate with a dedicated proclamation day in all schools on 15 March 2016.
St Patrick's National School in Islandeady, Co Mayo, was the first school to be presented with the Irish national flag at a ceremony on Monday.
It is the former primary school of the taoiseach [Irish prime minister] Enda Kenny.