EU 'to extend sanctions' against Russia by six months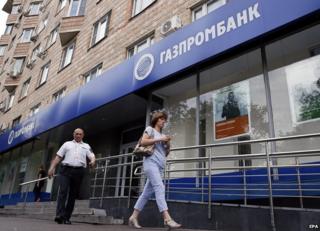 EU member states have agreed in principle to extend economic sanctions against Russia by six months over the Ukraine conflict, EU officials say.
The sanctions, which expire on 31 July, are not expected to change in content.
The decision needs to be ratified by EU foreign ministers meeting on Monday, though this is seen as a formality.
First imposed in July 2014, sanctions were the EU's united response to what it says was Russia's support for pro-Russia separatists in eastern Ukraine.
Russia has repeatedly denied sending soldiers and heavy weapons, including tanks and missiles, to the rebels, insisting that any Russians fighting there were "volunteers".
Crimea investment ban
The EU sanctions, which target Russia's energy, defence and financial sectors, were first imposed after Moscow's annexation of the Crimean peninsula from Ukraine in March 2014. The US imposed its own sanctions on Moscow.
In response, Russia has imposed a food imports ban from the EU, US and some other Western countries.
In the Brussels meeting on Wednesday, ambassadors from the 28 EU states also voted unanimously to extend a ban on investment in Crimea by one year.
This, alongside the agreement to extend sanctions until 31 January 2016, requires the approval of EU foreign ministers meeting in Luxembourg on Monday.
Although decisions taken at ambassador level within the EU are not always definitive, several officials told the BBC's Simon Wilson that in both cases final approval in the coming days was considered a formality.
Meanwhile, Russia's Finance Minister Anton Siluanov has been quoted by Russian media as saying that he was prepared for an extension of sanctions with regard to economic planning.
The EU and US have ratcheted up sanctions several times in the last year, tightening restrictions on major Russian state banks and corporations. Three major state oil firms were among those targeted: Rosneft, Transneft and Gazprom Neft, the oil unit of gas giant Gazprom.
They have also blacklisted dozens of senior Russian officials, separatist commanders and Russian firms accused of undermining Ukrainian sovereignty.
In March, EU leaders said sanctions would continue until the "complete implementation" of a ceasefire deal agreed in the Belarus capital of Minsk.
The expected extension comes amid renewed fighting between the pro-Russia separatists and Ukrainian troops in the east of the country, in violation of February's Minsk agreement.
The opposing sides have accused each other of shattering the ceasefire, which required them to withdraw heavy weapons from the frontline.
More than 6,400 people have been killed in eastern Ukraine since the conflict began in April 2014, when rebels seized large parts of two eastern regions following Russia's annexation of Crimea.