Sinn Féin's McLaughlin at Derry Messines commemoration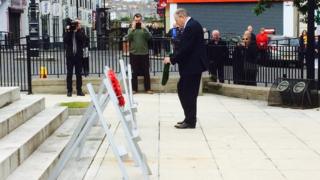 Assembly speaker, Sinn Féin's Mitchel McLaughlin, has laid a wreath at the cenotaph in Londonderry to commemorate the Battle of Messines in 1917.
Mr McLaughlin was joined at the event by party colleague Elisha McCallion, the mayor of Derry and Strabane.
They are the first members of the party to attend the service in the city.
Mr McLaughlin said as speaker of the assembly, his job was to represent everbody.
"The assembly represents everybody and every shade of opinion in our community as well and as the speaker I have the responsibility to speak for all of them," Mr McLaughlin said.
"So I thought it was appropriate in my year as speaker that I should advance, if you like, people's understanding of our history, our common history.
"The event itself that is being commemorated, I do think is an issue that republicans should study more, should understand better, should become involved in and I hope giving a lead that is what will happen in the future."
Over 100 people gathered to mark the thousands of men who died in the battle of Messines almost a century ago, one of the bloodiest battles of World War One.
As part of the event the union flag and Irish tricolour were given equal prominence.
Glenn Barr, one of the founders of the Messines Peace Project, said Irish nationalist soldiers who fought in the war should be remembered along with unionists.
"For us it was in recognition of the nationalist soldiers who died and perished and gave the sacrifice at the battle of Messines," he said.
"When I first went out there, to the Somme and saw the magnificent - if you can call it a magnificent monument to the 36th Ulster [division] and then I went down to Guillemont and saw the pitiful Celtic cross that was rusted and an old rust encrusted fence and how the nationalist soldiers were treated.
"So that hit me very heavy and I promised then that I'd do something about it.
"My poppy is worn every year now for the 10th, 16th and the 36th Ulster Division, so it's for nationalists as well as unionists."
It is the 14th year the service has been running, but the first time members of Sinn Féin have attended.
Historians have estimated that more than 200,000 Irish-born soldiers served in the British Army and Navy from 1914 to 1918.
The names of 49,400 Irish casualties of WW1 are listed on the Republic of Ireland's National War Memorial at Islandbridge, Dublin.