Spain to host rapid reaction US military force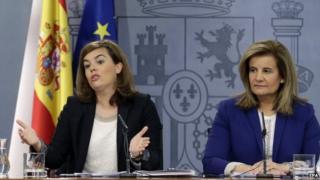 Spain has agreed to host a US rapid reaction military force to deal with crises in Africa, Europe and the Middle East.
The deal will allow 2,200 US troops and 500 civilian staff to be permanently stationed near the city of Seville.
They will be able to launch missions to protect their embassies, rescue US citizens and intervene in military conflicts and humanitarian crises.
The Moron air base in southern Spain already hosts 850 US troops.
"The aim is to contribute to the stability of the region and common security in Africa, Europe and the Middle East," said Spain's Deputy Prime Minister Soraya Saenz de Santamaria.
Defence partnership
She said that the number of US aircraft that could be deployed from the base would increase to 26.
US Secretary of State John Kerry will be in Madrid on Monday to sign an amendment to the 1988 defence partnership agreement.
The amendment needs to be approved by Spain's parliament, and the agreement must be renewed annually.
Spain's deputy prime minister added that the US would still need permission for missions from Moron.
The base has been used jointly by Spanish and US air forces since 1953.