Lobsters 'liberated' from Dublin restaurant fish tank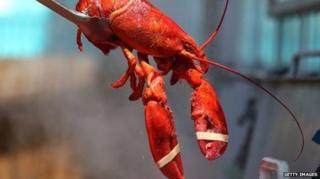 Animal rights activists have "liberated" nine lobsters from a fish tank at a Dublin restaurant.
They posed as diners and went into the restaurant at Wicklow Street on Friday evening.
They then took the lobsters and released them into the sea at Clontarf.
The National Animal Rights Association (NARA) said it was "life or death". Founder Laura Broxson called it an "act of compassion".
She told RTE News at One that the lobsters were going to be boiled alive.
"If it was cats and dogs in a tank in a restaurant people would have a problem with it," she said.
"For us, it was an act of compassion and we are willing to face any legal consequences brought to us because now these lobsters have a chance of living instead of being boiled alive and eaten."