Mediterranean migrant deaths: EU has 'moral duty' to act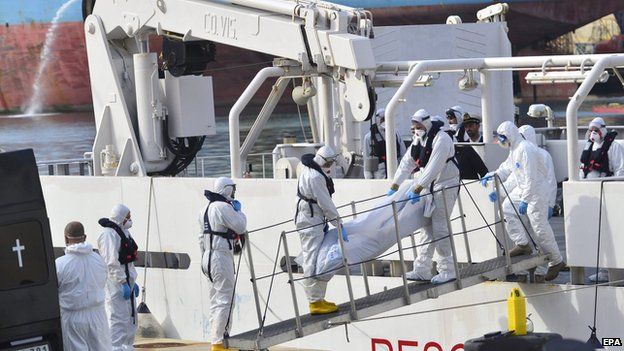 The EU foreign policy chief says Europe has a "moral duty" to act in the migrant crisis in the Mediterranean.
EU foreign and interior ministers are due to meet in Luxembourg later on Monday to discuss the deaths of migrants trying to cross from Africa.
Some southern European nations say the EU's credibility is now at stake after last year's decision to scale back search-and-rescue efforts.
Hundreds are thought to have died when a boat sank off Libya at the weekend.
The UN says the route from North Africa to Italy and Malta has become the world's deadliest.
On Monday, the International Organization for Migration (IOM) said it had received another distress call from a boat sinking in the Mediterranean with at least 300 migrants on board.
The caller said there had been 20 fatalities. But IOM spokesman Joel Millman told the BBC it was still trying to verify the details.
The Maltese navy told the BBC that a number of rescues were being carried out by Italian and Maltese ships off Libya, but it was unclear if these included the one reported by the IOM.
The Greek coastguard also said a vessel carrying dozens of migrants had run aground off Rhodes. Three people were killed and 80 rescued, the coastguard said.
EU foreign policy chief Federica Mogherini said ahead of the foreign ministers meeting there was "no magic solution".
"We have a political and moral duty to exercise our role. The Mediterranean is our sea and we have to act together as Europeans. The European Union was built and is built around the protection of human rights, human dignity and the life of human people - we need to be consistent in that."
German Chancellor Angela Merkel has said she is "appalled" by the latest disaster and wants Europe to find "answers", her spokesman is quoted as saying by the AFP news agency.
UK Prime Minister David Cameron has said this is "a dark day for Europe", adding that "search and rescue is only one part. We need to go after traffickers, help stabilise these countries".
The boat went down on Saturday night, 130 miles (210km) off the Italian island of Lampedusa and 17 miles from the Libyan coast.
The migrants reportedly fell overboard when they rushed to draw the attention of a passing Portuguese merchant ship, causing their boat to capsize.
The 20m (70ft) boat was believed to be carrying up to 700 migrants, and only 28 survivors have been rescued.
A boat carrying coffins of the 24 victims found so far arrived in Malta on Monday, the Italian coastguard says.
On Sunday, Italian Prime Minister Matteo Renzi called for an emergency EU summit by the end of this week, adding trafficking was "a plague in our continent".
The latest migrant boat disaster in the Mediterranean dominates Italian front pages and news websites.
"They drowned dreaming of Europe", is the headline in Corriere della Sera. "Migrant apocalypse", says La Repubblica, while Il Messaggero leads with "Europe's disgrace".
Editorials and commentaries despair at perceived EU inaction in the face of the unfolding tragedy in the Mediterranean.
Writing in Corriere della Sera, Claudio Magris condemns what he calls the European Union's "obscene" indifference.
"It's as if the Italian government were to offload the problem by saying that it's Sicily's business, given that the survivors, dead or alive, don't get to Rome or Turin."
Roberto Saviano in La Repubblica says Italy has to try to change Europe's stance.
"The only ones who at this hour represent what Europe should be are the Italians, the many Italians who save lives every day," he writes.
But there are also calls from some quarters for tougher action from the Renzi government to hit at the root of the problem. Alessandro Sallusti in Il Giornale says the Italian military must sink the boats used by traffickers "that sit in Libyan ports waiting for their human cargo to set sail towards Europe".
Mediterranean migrants
13,500
Migrants rescued 10-17 April
1,600
Feared to have died attempting the crossing so far this year
35,000 Migrants have arrived from North Africa in 2015

218,000 Estimated to have crossed the Mediterranean in 2014

3,500 Migrants died attempting the crossing last year
AFP
Maltese Prime Minister Joseph Muscat has told BBC Radio 4's Today programme that Libya is key to resolving the crisis:
"We have what is possibly becoming a failed state at our doorstep. We have criminal gangs having a heyday organising these trips in rickety boats... We need to get the Libyan factions together to form some sort of government of almost national unity."
Human smugglers are taking advantage of the political crisis in Libya to use it as a launching point for boats carrying migrants who are fleeing violence or economic hardship in Africa and the Middle East.
Up to 1,500 migrants are now feared to have drowned this year alone.
The UN High Commissioner for Refugees (UNHCR) said the latest sinking could amount to the largest loss of life during a migrant crossing to Europe.
The EU has been criticised for its policy since the rescue operation, Mare Nostrum, was ended last year.
Rescue operations in the Mediterranean
Oct 2013-Oct 2014: Mare Nostrum search-and-rescue Italian operation aimed to keep 24-hour watch over the Mediterranean, especially the Sicily Strait, after more than 300 migrants drowned off the Italian island of Lampedusa
Nov 2014: Operation Triton, a cheaper and more limited EU-led operation, began, based in Italian waters, focusing on patrolling within 30 nautical miles of the Italian coast
Some EU members said they could not afford it and expressed concerns that it was encouraging more migrants.
It now runs a more limited border control operation called Triton.
The UNHCR said that migrant boats had carried 13,500 people into Italian waters last week alone.
Last year, a record 170,000 people made the perilous crossing to Italy. Thousands died on the journey.
Recent Mediterranean migrant disasters
Oct 2013: More than 360 people, mostly Eritreans and Somalis, die as their boat sinks off Lampedusa.