Ukraine conflict leaves Donetsk families divided and apart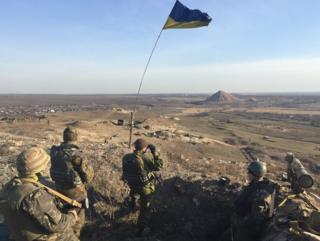 Ukraine's two eastern regions have been split in two.
Families have been divided by the war's frontline, and some relationships have been torn apart on political lines: between those who support the self-proclaimed pro-Russian republics to the east, and those who believe in a united Ukraine.
Yelena Malyutina faced a dilemma when the city where she lived in eastern Ukraine was taken-over by pro-Russian rebels: Her husband and home, or her political beliefs.
She chose the latter.
Yelena describes herself as very pro-Ukrainian, and her husband as pro-Russian.
So she and her 15-year-old daughter, Katya, swapped their comfortable family home in Donetsk for a small room in an apartment they share with 13 other people.
It is in a grey Soviet-era apartment block in the town of Kramatorsk, on the other side of this war's arbitrary frontline.
"I have nothing to lose any more," she says.
"My home is 300km (185 miles) from here, my family is divided and all I have is my daughter and my work."
But the "pain deep inside" that she describes is, in a way, a result of her choice.
Does she think it is a worthwhile sacrifice?
"I think so. I have no reason to change my mind, because it is my belief."
Yelena's belief is that "Russia kicked me out of my home".
'Different countries'
For many in eastern Ukraine, returning home means passing through Ukrainian and rebel checkpoints.
Liza Adonyeva, 20, is unfazed by the weekly journey she has to make across the war's frontline.
During the week she studies in the town of Artemivsk on the Ukrainian side of the divide.
At weekends she travels to see her family in Horlivka, a town in the hands of pro-Russian rebels.
"Now it is like two different countries," she says.
I meet Liza outside a local government building in Artemivsk.
By the door, a crowd of mainly elderly people is trying to squeeze in.
Inside, people are being issued with a pass which, since January, is needed to cross into rebel-controlled Ukraine.
Clutching a notebook, Olga Yurchenko tells us she is trying to get to her home in Debaltseve, a town captured by pro-Russian forces just after the ceasefire came into effect last month.
But this is the seventh time she has come here and she is yet to get the pass she needs to cross to her home on the rebel-held side.
Yuri Rabinovich is another frustrated person standing outside the building.
"I have a Ukrainian passport," he cries out.
But he too cannot get to his home in Debaltseve, which he and most Ukrainians believe is still part of Ukraine.
'Inhumane'
The Donetsk region of eastern Ukraine, where most of the fighting has been concentrated, is split in two.
The governor of the region on the Ukrainian side, Oleksandr Kikhtenko, describes the new restrictions, and the fact that people cannot cross into rebel-held territory without a special pass, as "inhumane".
He says thousands of people are affected, and tells the story of a 14-year-old boy who broke his leg playing basketball in the coastal city of Mariupol, on the Ukrainian side of the frontline.
Mr Kikhtenko says the best doctors for the boy's condition were in rebel-held Donetsk, but it was hard for him to get there because he did not have a pass.
However, some people lucky enough to obtain the necessary documentation are moving back to their homes, to be with their relatives.
After six months apart, we watched as Alla Pleshakova was reunited with her three young grandchildren, and her daughter Tatiana.
Tatiana had moved her family away from Debaltseve to escape the fighting, but with the current ceasefire generally holding they decided to return.
"It's so hard," she tells me as she wipes away the tears.
"While they were away, my granddaughter's first tooth came through, and she took her first steps."
Precious moments that a grandmother missed, because of the war.