Paris attacks: Four arrests linked to gunman Coulibaly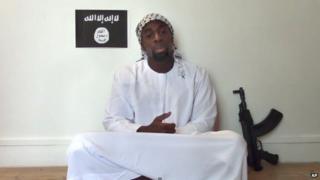 French police have detained four people over the Islamist attacks in Paris on a satirical magazine and a Jewish supermarket in which 17 people died.
A woman police officer and three others are believed to have had connections with Amedy Coulibaly, who was killed by police during the supermarket siege.
A suspect named as Amar has been in custody since January on drugs charges.
But investigators have used his phone data to place him not far from the supermarket just before the attack.
They think that Amar, said to have been close to Coulibaly, may have been watching the target.
All four suspects were placed under formal investigation on Monday.
Amar's girlfriend, a convert to Islam, is a policewoman who worked at a police intelligence centre in the Parisian suburbs.
She is believed to have looked at Amar's police file after the January attack and sent it on to him.
She has now been suspended.
Two other people known to Coulibaly are also being questioned by police.
So far, six other people are under judicial investigation under suspicion of providing help to Coulibaly and Said and Cherif Kouachi, the BBC's Hugh Schofield reports from Paris.
The French capital was traumatised by the attacks, which began on 7 January when the Kouachi brothers killed 12 people at the offices of Charlie Hebdo magazine.
Coulibaly shot dead a policewoman in the south of Paris the following day and on 9 January attacked the supermarket, killing four people before police shot him dead.
Police also besieged and killed the two brothers.