Boris Nemtsov murder: What next for Russia's opposition?
By Konstantin von Eggert
Kommersant radio commentator, Moscow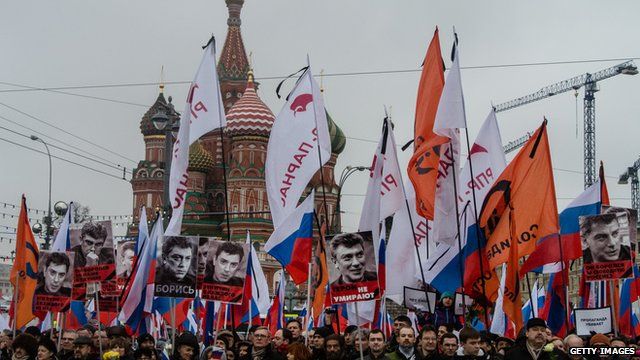 It was a day to remember. Having closely watched Russia's unfolding history since 1990, I do not dispense such opinions lightly.
Tens of thousands of people marched along the Moskva River embankment near the Kremlin, to the bridge where one of the country's most charismatic and indefatigable opposition figures Boris Nemtsov was murdered on Friday.
As I walked with Muscovites I was impressed by the air of quiet determination and resolve.
As one of Russia's leading news sites Gazeta.ru put it, it was a "march against fear".
There was no comparison with the 2011-2012 protests against the fraudulent Duma elections, where party flags and countless slogans sailed over the crowd as it chanted funny rhymes, satirising the authorities.
There was no such thing on Sunday. There were few signs of political parties and movements, very little chanting, but lots of Russian as well as Ukrainian national flags.
And flowers - probably the largest amount I have ever seen in one place.
Many here in Moscow deliberate now as to whether the murder of Mr Nemtsov, a well-known figure, respected even by many opponents as a fearless and open man of conviction, will become a watershed for Russian society and for the Kremlin's opponents.
Other prominent figures - former Prime Minister Mikhail Kasyanov, anti-corruption crusader Alexei Navalny and oligarch-turned-prisoner-turned-emigre Mikhail Khodorkovsky - have been around for some time.
But they seem to be unable to create a momentum for the opposition that can capture the public imagination.
Partly this is due to the understandable fear of Russians towards radical change. The collapse of the USSR is still a fresh memory for many.
That stability is cherished above most other things.
Partly the opposition's bad fortunes are due to the fact that it is practically blocked from national TV networks, which provide news and views for 90% of Russians. As the taxi driver that took me to the march casually observed: "If you are not on TV, you do not exist."
The only time the opposition makes it on to television is when specially commissioned documentaries portraying them as "CIA agents" are being aired.
Over the past decade the Kremlin's opponents have been searching for a magic formula to break through the public's indifference or even outright hostility.
Alexei Navalny's investigations of high-level corruption inspire many, but at the same time in a country where institutions and civic society are weak, palm-greasing is seen as a way of solving problems where nothing else works.
Mikhail Kasyanov's calls for Russia to embrace a "European ideal" are fine, but in a country where barely 20% of the citizens own passports and even fewer have ever been to Europe, this is a bit of a theoretical proposal.
Mikhail Khodorkovsky, with his saga of rags to riches to prison and finally to freedom, possibly makes him for now the most convincing and potentially attractive figure for a lot of people. But he lives abroad, facing imminent detention if he returns.
He advocates a "long haul" approach for the opposition.
He argues that it has to transcend the relatively narrow circle of metropolitan professionals and intellectuals, which are by far the most prominent social group among protesters, and start building up its support base from below.
In his view it will take time to convince ordinary Russians that freedom and democracy are not abstract notions, but are good for them practically, too.
However, in a time of acute economic and political crisis, with the war in Ukraine providing a tragic backdrop, there may not be time to wait for the new model Russian citizen to materialise in the flesh.
Judging by Sunday's marches, which took place not only in Moscow but in other cities too, there is a feeling among opposition-minded people that they need to show their colours and be more vocal about their beliefs.
If I read the public mood correctly the "concerned citizens" have outgrown the need for strong leaders directing them to a bright future.
The best option for opposition politicians is to unite around a short specific programme of political change rather than jostle for primacy, to streamline the public mood rather than form it, to trust more than preach.
Eventually the opposition will need leaders, if and when the system opens itself up to free and fair elections. By then, it will be clearer see who has the best chance of winning.
For now, though, it appears that greater trust should be placed with those who conquered their fears and took to the streets, because at this moment their political intuition is worth a lot.
Konstantin von Eggert is a commentator and host for Kommersant FM, a 24-hour news radio station in Moscow.