Jewish heirs sue Germany over Nazi medieval hoard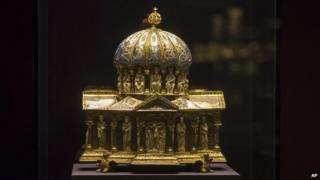 The heirs of Jewish art dealers who claim their relatives were forced to sell a medieval treasure trove to the Nazis have filed a US lawsuit against the German state.
They allege that the Nazis forced the sale of dozens of relics known as the Welfenschatz or Guelph treasure.
They want to recover the collection, now thought to be worth $226m (£146m), which is currently in a Berlin museum.
The government says the deal was fair and the relics should stay in Germany.
The descendants believe that the original deal took place under duress and that the Nazis forced the Jewish dealers to accept a lower price.
"Any transaction in 1935, where the sellers on the one side were Jews and the buyer on the other side was the Nazi state itself is by definition a void transaction," said lawyer Nicholas O'Donnell.
The four dealers received millions of dollars when they sold them to the Gestapo founder Hermann Goering.
In March last year Germany's advisory body on cases of suspected Nazi-looted art, the Limbach Commission, found no evidence of persecution and that the price was fair.
This is the largest collection of medieval church art in the hands of the German state, and was recently classed a national cultural treasure. Some of the pieces are more than 800 years old.