Germany measles: Toddler death fuels compulsory vaccination debate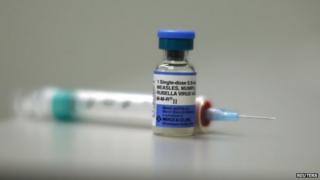 An 18-month-old boy has died of measles in an outbreak of the disease that has seen authorities in Berlin register more than 500 cases since October.
The boy died in hospital and it was not clear how he contracted the disease, Berlin's health senator Mario Czaja said on Monday.
The outbreak has sparked a debate over whether vaccinations against the disease should be made compulsory.
US authorities are also reporting more than 120 new cases in California.
The death of the young boy showed that measles continued to be a serious disease, Mr Czaja said. The disease is treatable but can weaken the immune system and cause lung and brain infections.
Authorities in Berlin also confirmed that a secondary school was closed on Monday after a measles case was reported there.
Since October, the authorities have registered 574 cases, the worst outbreak in more than a decade. The federal health ministry recommends vaccinations but has not made them compulsory.
The jabs are usually administered together with vaccines against other diseases. There have been claims in the past - later discredited - that the vaccines could be linked to autism.
Medical professions and governments around the world say vaccination is safe and recommend it as a preventive measure.
In California, the Department of Public Health has reported an outbreak of measles with 123 registered cases so far. Most of those showing symptoms of the disease were not vaccinated.