Putin critic Alexei Navalny given 15-day jail sentence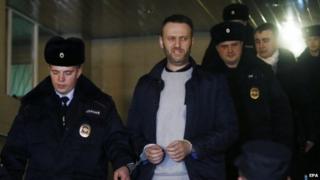 Russian opposition leader Alexei Navalny has been sentenced to 15 days in prison for handing out leaflets to publicise a forthcoming demonstration.
His imprisonment bars him from taking part in the planned rally on 1 March.
Navalny was given a suspended sentence for defrauding two firms in December. He says the legal cases against him are motivated by his opposition to President Vladimir Putin.
Navalny left the courthouse on Thursday in a police car and wearing handcuffs.
He urged his followers to attend the rally against President Putin's policies.
The law he breached is one that restricts demonstrations.
Street protests
"To ease the economic and political crisis we have to pressure the authorities. Let's go to the anti-crisis rally," he said in a video posted on his Twitter account.
Correspondents say that although he has little chance of posing a serious challenge to Mr Putin, he had pledged to lead 100,000 demonstrators in the march, which he says is against Kremlin policies that are leading Russia into a severe economic crisis.
Mr Navalny led Moscow street protests against President Putin between 2011 and 2012.
Last year he and his brother Oleg were accused of stealing 30m roubles ($462,000;£300,000) from two companies.
Oleg was given a three-and-a-half-year jail sentence, while Navalny was given a suspended sentence that prosecutors say they will appeal against.
Critics of the Kremlin and the US say that his case is an attempt to stifle political dissent.
Since he was sentenced, Navalny has taken an increasingly defiant stance, cutting off his house arrest tag in January.