1916 commemoration: Royal presence in Dublin unlikely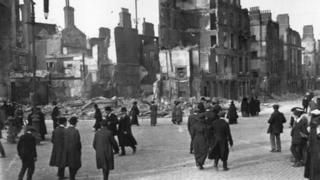 It looks increasingly unlikely a member of the royal family will be in Dublin when the Republic of Ireland marks the centenary of the 1916 Easter Rising.
The possibility was first mooted two years ago by then tánaiste (deputy prime minister) Eamon Gilmore.
He said he hoped a member of the royal family would be present.
Last year, during President Michael D Higgins' state visit to the UK, the Queen expressed similar sentiments at a state dinner at Windsor Castle.
She is unlikely to have raised the possibility unless the matter was being seriously considered by officials from both governments in the context of relations between Dublin and London never being better.
However, relatives of those who fought in the rising said they were not impressed with the proposal.
The 1916 event saw rebels take over a number of buildings in Dublin as part of an uprising against British rule.
British troops put down the rebellion and many ringleaders were executed.
James Connolly Heron, whose great-grandfather, James Connolly was a leader of uprising and who was executed by the British, said he believed any royal presence would contradict what 1916 was about - Irish freedom from the Crown and Britain.
"I don't think the events in our history which led to our independence should be looked upon as some form of diplomatic exercise, " he said.
"I think it's a stand-alone event that should be commemorated. And we should honour the men and women of 1916, particularly those who paid the ultimate sacrifice for Irish freedom."
Similar statements were made by other surviving relatives, including the Fianna Fáil TD, Éamon Ó Cuív, whose grandfather Eamon de Valera later became taoiseach (prime minister) and then president of Ireland.
Sinn Féin also opposed a possible royal presence.
'Distraction'
Diarmaid Ferriter, a professor of modern history at University College Dublin, said he believed a member of the royal family present at the centenary might "distract" from what the rising meant.
The word distraction was also used by the junior minister, Aodhán Ó' Riordáin in Monday's Irish Times, when he said he thought it was "extremely unlikely" that there would be a royal presence at Dublin's GPO or on O'Connell St to mark the centenary.
It appears the change of position was decided last week by a cabinet sub-committee on the matter.
It is understood that security implications were also an issue.
There has, however, been no official confirmation that a royal presence at the centenary events is off the agenda.