Venice carnival: Masked revellers celebrate city's festival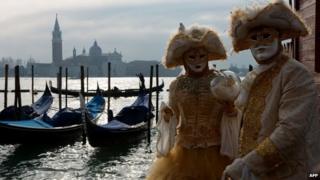 Revellers wearing elaborate masks and costumes have taken to the streets of Venice to open the city's centuries-old carnival officially.
The event is a public party leading into the Roman Catholic fasting month of Lent which begins on 18 February.
It opened at noon on Sunday with the Flight of the Angel ceremony, a theatrical tradition which takes place in St Mark's Square.
The celebrated carnival was first held in the 11th Century.