Hen Harrier shot dead: Rare bird of prey killed in County Kerry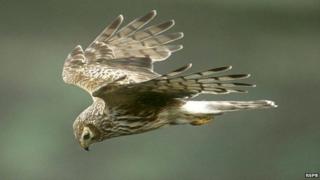 One of the rarest birds of prey in the Republic of Ireland has been shot dead in County Kerry.
The hen harrier was found on isolated ground last month.
Tests have confirmed that she was shot.
It is understood there are just over 100 breeding pairs of hen harriers in Ireland. Police are said to be investigating the incident.
It is an offence under the Wildlife Act in the Republic of Ireland to kill hen harriers.
The female harrier that was shot in County Kerry had been satellite tagged as part of a joint community awareness project between a rural development company in Duhallow in County Cork and the National Parks and Wildlife Service (NPWS).
Dr Barry O'Donoghue of the NPWS, who oversaw the satellite-tracking project, told Irish state broadcaster RTÉ it had been hopeful the bird may have returned to Kerry to breed this year, and described her killing as "heart-breaking".