French court stops child from being named Nutella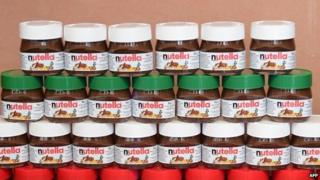 A French court has stopped parents from naming their baby girl Nutella after the hazelnut spread, ruling that it would make her the target of derision.
The judge ordered that the child be called Ella instead.
He said in his ruling that the name Nutella was the trade name of a spread that is commonplace in Gallic homes.
"And it is contrary to the child's interest to have a name that can only lead to teasing or disparaging thoughts," he pronounced.
French parents are usually free to choose the names of their children, but local prosecutors are empowered to report what they deem to be unsuitable names to a family court.
The parents in the case on Monday did not attend the court hearing, so the judge decided in their absence that Ella was a more appropriate name.
There have been several cases involving children's names in France since 1993, when parents were finally given the freedom to name their children as they pleased, including:
A couple who wanted to call their daughter Fraise (Strawberry) which a judge also ruled could result in the child being teased. The baby instead was renamed Fraisine, a name popular in the 19th century
A father who took legal action to try to stop French car makers Renault from using the same name as his daughter, Zoe Renault. Cedric Renault argued that if Renault named car model Zoe it would make his daughter's life a "nightmare"
lain and Sophia Renaud in 1999 fended off legal action to prevent them from naming their daughter Megane, even though local authorities said it sounded too much like a car
---
Your name is not allowed
Iceland: Elvis (yes); Carolina (no)
New Zealand: Number 16 Bus Shelter (yes); Yeah Detroit (no)
Germany: Legolas (yes); Matti (no)
Sweden: Metallica (yes); Brfxxccxxmnpcccclllmmnprxvclmnckssqlbb11116 (no)
Japan: Akuma (means Devil) - (no)
Portugal: Mona Lisa (no)
India: Lenin, Stalin, Brezhnev and Khrushchev (yes)
Why do some countries regulate baby names?
---