Rail spur could link Belfast to Dublin Airport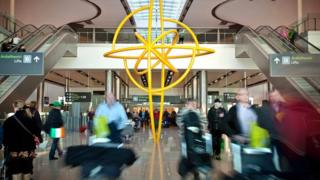 Irish Rail is considering an extension to its network that could allow people to travel directly from Belfast to Dublin Airport.
The company is proposing to build a spur at Clongriffin that would allow passengers from Northern Ireland to connect to the airport.
The development may include an interchange or some direct services.
The plan will ultimately have to be approved by the Irish Department of Transport.
It currently has no definite timeframe or budget.
Dublin Airport already attracts more than 500,000 passengers a year from Northern Ireland.