Irish Minister for Health Leo Varadkar says he is gay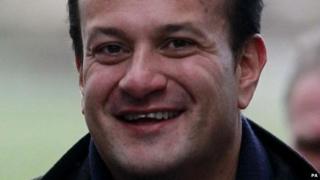 Irish Minister for Health Leo Varadkar has revealed that he is gay.
Mr Varadkar said he had decided to speak about his sexuality as he would be campaigning for the government in support of same-sex marriage in the forthcoming referendum in May.
"It's not a secret - but not something that everyone would necessarily know, but it isn't something I've spoken publicly about before," he said.
The minister was speaking on RTÉ radio in an interview on his 36th birthday.
"I won't be allowing my own background or my own sexual orientation to dictate the decisions that I make," he said.
"I just kind of want to be honest with people. I don't want anyone to think that I have a hidden agenda."
The referendum comes 22 years after homosexuality was decriminalised by the state.
Same-sex couples in the Republic of Ireland have been able to enter a civil partnership since January 2011, but not marry.