How world's press responded to 'the punching Pope'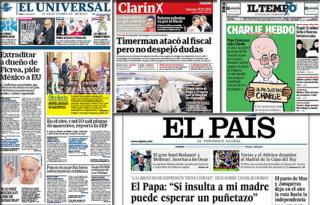 Media around the world report widely on Pope Francis's remarks that there should be limits to freedom of speech, particularly when it insults or ridicules faith.
Many outlets highlight one colourful image used by the Pope - that it was natural for someone whose mother had been disparaged to want to punch the perpetrator.
Europe
The Spanish daily El Pais says on its front page: "Pope: 'If you insult my mother you can expect a punch.'"
Italy's Bergamo Post says the Pope's remarks that he was justified in punching someone for insulting his mother was an "absolutely normal" response. Such lapses can even happen "to a Pope who knows you shouldn't punch people", the paper says.
Writing in Italy's Corriere della Serra, commentator Luigi Accattoli says the Pope has delivered "one of his truisms intended to have maximum impact", that is "if you insult the faith of others... you can expect a punch". He adds that the Pope's comments about freedom of speech echo those made by his predecessor, Pope Benedict, in 2006 following the publication of the Danish cartoons depicting the Prophet Muhammad.
Commentator Franca Giansoldati writes in the Italian daily, Il Messagero, that the Pope's language is "becoming ever more colourful and direct".
Jan-Christoph Kitzler, German Public TV's Rome correspondent, says it is a "very unusual example for a Pope to give". Hamburg's Die Zeit newspaper dubbed the pontiff's remarks as "plain-speaking".
Latin America
The story also features prominently on the front pages of Argentine dailies La Nacion, Clarin and Tiempo. La Nacion says the Pope "stirred up controversy when he said that if someone insulted his mother he would respond with a punch".
The Brazilian daily, Folha de Sao Paolo, is less forgiving. "Francisco why don't you shut up" screams a front-page headline. Commentator Reinaldo Azevedo compares the "politicking" Pope to a village priest and says his remarks on freedom of expression were "cowardly and inaccurate".
But the Mexican daily, El Universal, echoes the Pope's opinion saying: "You cannot insult others' faith without causing anger."
Middle East
Algeria's Echourouk El Youmi says: "Pope Francis has said that freedom of expression is a fundamental right but it does not mean that we should insult the beliefs of others."
The Saudi pan-Arab daily Al-Sharq Al-Aswat issues a note of caution to the Catholic Church. It says that while there is surprise over the current extremist attacks, "the Church must remember the religious wars we have witnessed" throughout history.
Libyan Al-Tadamun News Agency website echoes the Pope's comments, saying "killing in the name of God was absurd".
Pakistan
Pakistani daily The FrontierPost says the Pope's remarks come at the "perfect time". It urges him to go "a step further" and call on the UN to adopt international laws which respect all religions and faiths. "Bravo Pope Francis for playing the lead."
BBC Monitoring reports and analyses news from TV, radio, web and print media around the world. You can follow BBC Monitoring on Twitter and Facebook.