Italian President Napolitano announces retirement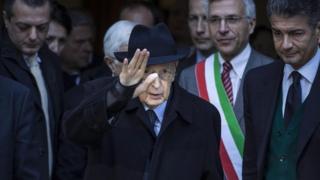 Italian President Giorgio Napolitano has announced his retirement in a resignation letter, officials say.
His departure on Wednesday leaves Prime Minister Matteo Renzi with the difficult task of finding a successor.
Some commentators have predicted that Mr Renzi may opt for elections if he cannot find support for a replacement to 89-year-old Mr Napolitano.
The president's role is mainly ceremonial, although he can choose a prime minister and dissolve parliament.
That power has been seen as crucial in recent years.
Mr Napolitano was praised by some for using it to dismiss PM Silvio Berlusconi at the height of Italy's sovereign debt crisis in 2011.
Mr Napolitano announced last month that poor health meant that he would leave office ahead of the 2020 expiry of his term.
In 2013 he reluctantly agreed to serve a second term to help play a role in resolving parliamentary elections which were deadlocked.
Mr Renzi paid tribute to the president's public service in the European Parliament in Strasbourg, describing him as a long-serving public servant who had dedicated his life to Italy and to Europe.
He said that the president "will stand down within the next few hours with a long list of achievements to his credit".
Mr Napolitano was first elected to parliament in 1953 and became president in 2006.
He was a well-known member of the Democratic Left, the rebranded name for the Cold War-era Communists.
His supporters see him as a bastion of stability amid Italy's political uncertainty, but his critics view him as representing a tarnished political class who often acted beyond his powers.
Parliament's lower house will name the date for the election of his successor by 1,009 parliamentarians and regional representatives. The process must start within 15 days.
The voting requires a two-thirds majority within the first three rounds. If that produces no winner, only a simple majority is required in the fourth round.
Correspondents say that the voting process can be highly unpredictable, with lawmakers using the secret ballot to settle political grievances.
Mr Renzi said earlier that he was confident a president could be chosen in the fourth round.