Irish mother and baby homes: Terms of three-year inquiry published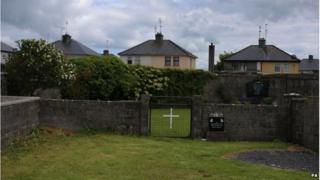 The Irish government has said a public inquiry into mother and baby homes will investigate how society "failed" the women and children placed in the homes.
The inquiry was announced last year, following revelations about a mass grave at a Catholic Church-run mother and baby home in Tuam, County Galway.
The minister for children has set out the terms for a three-year inquiry.
James Reilly said the state "failed to come to terms with a harrowing reality in our past".
The homes were mainly church-run institutions to which unmarried women and teenage girls were sent to give birth, as many were ostracised by their families and communities for becoming pregnant outside marriage.
'Uncomfortable truth'
The mass grave in Tuam was discovered 40 years ago, but it made international headlines last year when historian Catherine Corless uncovered new details about the extent of the burials and the high death rate among children.
In a statement, the minister said: "Last May, people in Ireland and around the world were shocked at media reports about what was described as a mass grave in the mother and baby home in Tuam in Galway.
"The sense of indignation we all felt about this was palpable.
"The work of a crusading historian combined with the media reports confronted us with an uncomfortable truth that we had seen fit to largely ignore."
The Tuam home was run by nuns of the Bon Secours Sisters for 36 years.
'Enormous job'
It was just one of the Irish institutions in which about 35,000 unmarried pregnant women were sent to have their children.
The inquiry will focus on the period from 1922 to 1998.
Former residents will be asked to provide accounts of their experiences in the homes, which will be recounted in private to a committee.
The inquiry will be carried out by three commissioners led by the chair, Judge Yvonne Murphy, who was appointed to the role last July.
The commissioners appointed to assist her are historian Prof Mary Daly and Dr William Duncan, an international legal expert on child protection and adoption.
The minister said the inquiry team had agreed to take on an "enormous job of work" that would span 75 years of practices in mother and baby homes.
'Respect for women'
"The Ireland of 2015 is unrecognisable in terms of our advancement in our understanding of human rights compared to the early part of the last century," Mr Reilly said.
"It is unrecognisable too in terms of the increased determination and practical steps to ensure the protection of children and respect for women.
"But with the work of this commission, investigating mother and baby homes in an unflinching manner, with the powers afforded under legislation, those advances will be underpinned by a greater knowledge of how we fell short in the past."