George Clooney plans visit to Ireland in summer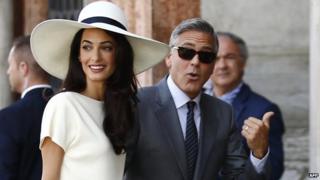 George Clooney and his wife are to visit the Republic of Ireland this summer, according to a newspaper report.
It will be the actor's first visit to the country of his ancestors.
Clooney, who married lawyer Amal Alamuddin last September, revealed that U2 frontman Bono wanted to cycle around Ireland with him.
Clooney told the Irish Independent newspaper: "I'm embarrassed that I've never been properly there before now."
The Hollywood actor has a number of links with Ireland.
His great, great-grandfather Nicholas Clooney came from Kilkenny and his paternal grandmother's maiden name was Guilfoyle.
Clooney told the paper about his plans to travel to the Emerald Isle, a country his wife has visited on several occasions.
"I've been talking about going there for years and Bono has been trying to get me to do a bike ride around Ireland with him," he said.
"He probably won't be up for that now, but I'm definitely going to make a visit happen this summer. Amal has been several times, so she can show me around."
Two Oscars
Clooney was previously married to Talia Balsam, who he divorced in 1993.
One of the world's most recognisable actors, the American has two Oscars to his name: for best supporting actor in Syriana (2006) and for best picture as producer of Argo (2013).
Other than his film work, he has embraced human rights causes such as the Darfur crisis in Sudan.