Bulgaria 'to take back asylum-seekers' from rest of EU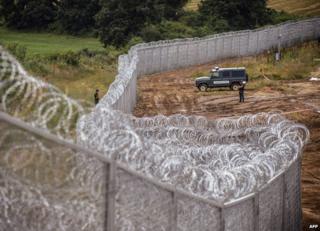 Bulgaria has agreed to take back more than 3,000 asylum seekers who tried to settle in other EU countries, Bulgarian media report.
In 2013 Bulgaria struggled with a surge of refugees fleeing the Syria war and its reception centres are overcrowded.
Other EU countries have asked Bulgaria to take back nearly 8,000 asylum seekers, Novinite news website reports.
The EU country where migrants first arrive is supposed to handle asylum claims, under controversial EU rules.
Bulgaria and neighbouring Greece have complained that the EU's Dublin II Regulation on asylum claims is unfair. They have urged EU partners to share the burden of asylum claims more equitably, as have Italy and Malta - Mediterranean countries that are also experiencing an influx of migrants.
Novinite reports that Germany, Austria and Hungary are among the countries that want to send migrants back to Bulgaria. So far Bulgaria - the poorest country in the EU - has agreed to the return of at least 3,163.
In 2013 Bulgaria beefed up security on its land border with Turkey, building a 32km (20-mile) fence there to keep migrants out. Bulgarian officials are now considering extending the fence to more of the border zone.
Hundreds of extra police have been sent to the border, but a proposal to send troops there too was rejected by President Rosen Plevneliev.
Rights concerns
Last April the European Commission opened an infringement procedure against Bulgaria and Italy over reports that Syrian refugees had been "pushed back" by border police. The procedure can be escalated to fines if national authorities fail to stop violations of human rights norms.
US-based rights group Human Rights Watch also strongly criticised Bulgarian border "pushbacks" in a report.
Under international law asylum seekers have a right to an individual assessment, to determine if they are genuine refugees from war or persecution.
The EU border agency Frontex says Syrians made up more than half of the migrants detected entering the EU illegally via the Eastern Mediterranean route in 2013, which includes the Bulgaria-Turkey border.
In data for 2014 Bulgaria's State Agency for Refugees lists Syria as the top country of origin for refugees in Bulgaria, with 5,517. Second was Afghanistan (2,468), then Iraq (454).
In the period January 1993 - December 2014 Bulgaria received a total of 37,994 asylum claims, the agency says. Of those, refugee status was granted to 6,520 and humanitarian status to 8,870. Humanitarian status does not provide as many legal benefits as those granted to refugees.