Turkish police arrested for 'wiretapping politicians'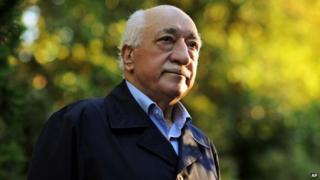 At least 20 police officers have been arrested in Turkey, accused of illegally wiretapping politicians.
Dozens of officers were arrested in 2014 on similar charges, pertaining to illegal intercepts which also targeted civil servants and business figures.
The Turkish government says this was part of a campaign coordinated by United States-based cleric Fethullah Gulen, who denies the accusation.
A Turkish court issued a warrant for Mr Gulen's arrest in December.
The most recent round of arrests follows police raids in eight Turkish cities.
As well as wiretapping, which is believed to have targeted Turkish President Recep Tayyip Erdogan himself, police officers are accused of forging official documents and violating the privacy of individuals.
Thirteen people arrested last year, including Mr Erdogan's former bodyguard and the former head of Turkish Prime Minister Ahmet Davutoglu's security detail, went on trial last week on similar charges.
The crackdown on corruption within the police force is part of President Erdogan's plan to purge the Turkish authorities of what he calls a "parallel state" - an assortment of hostile figures supposedly embedded within the police and judiciary.
Mr Erdogan accuses Mr Gulen, Turkey's most powerful Sunni cleric and a former ally of his, of coordinating a campaign to destabilise his government using sympathetic agents within state institutions.
The US-based cleric is the founder of the Gulen movement, otherwise known as Hizmet.
The spat between Mr Gulen and the government intensified following the release last February of telephone intercept recordings which purport to show Mr Erdogan instructing his son to hide around €30 million (£23m; $36m) in cash following raids on government ministers.
Mr Erdogan dismissed the recordings as a "vile montage".