Ireland to export beef to US after ban lifted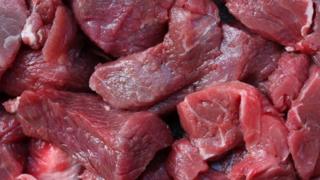 Beef from the Republic of Ireland has been approved for sale in the US for the first time in almost 16 years.
It follows the lifting of a ban on European beef imports which had been in place since the BSE crisis in the late 1990s.
It means Ireland will be the first European country to be granted full access for its beef in the US market.
The announcement represents a multi-million euro boost for the Irish beef industry.
The US Department of Agriculture has insisted that tough audits and inspections of European beef production facilities and systems would have to be passed before the ban was lifted.
---
The news that Irish beef is to be allowed back into the US has been welcomed by all the key players in the Irish agriculture industry from minister Simon Coveney to the Irish Farmers Association.
The industry is confident there is a market for Irish beef.
Irish cows are grass fed and the beef is sometimes known in America as "green beef".
Minister Coveney has indicated that he is confident that Irish produce can attract American consumers and not just in the traditional cities associated with Ireland, like Boston and New York.
He has said that, at the moment, most American green beef is imported from Paraguay.
The fact that Ireland is the first EU country to be given access to the US market for the first time in 16 years - since the BSE crisis - is seen by many as giving the Irish industry a head start on its European counterparts.
The pressure is now on to take advantage of that early access.
---
Ireland's Agriculture Minister Simon Coveney and his department have been working for the past two years to ensure that Ireland would be the first European beef exporter allowed back.
The minister said Monday's announcement was a huge prize given the size of the US market and its demand for premium grass-fed beef.
He said the large Irish-American community will now be a key target for the promotion of Irish beef.
The US decision clears the way for the department to approve individual beef plants in Ireland to export to the US and has already been working with interested parties for some time.
Meat Industry Ireland said clarification was still needed on some aspects, according to Irish state broadcaster RTE.
It said the decision represented a "further endorsement of our food industry standards and our quality management systems".