Charlie Flanagan: Minister apologises for 'any offence caused' by tweet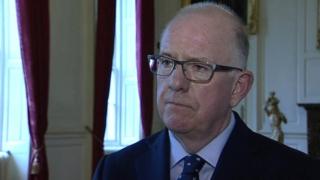 Irish Foreign Minister Charlie Flanagan has apologised for making an apparent reference to a four-letter swear word in a heated exchange on social media.
The Fine Gael TD tweeted on Wednesday that 2015 offered the Republic of Ireland the choice of "constitutional politics or cult politics".
Sinn Féin TD Pádraig Mac Lochlainn responded by posting an image of the Blueshirts, a pre-cursor to Fine Gael.
He also said: "Hopefully cult politics doesn't make a comeback."
Another user suggested that the tweet had been misspelled, to which the minister replied: "yep left out the 'n'".
A spokesman for Mr Flanagan told Irish state broadcaster RTE on Thursday that he was an active user of social media, but apologised for any offence caused by the exchange.