Kerry: Up to 14 people injured in minibus crash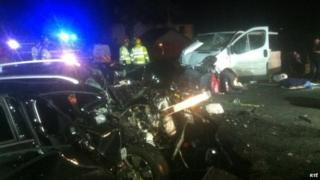 Up to 14 people, including a number of children, are believed to have been injured in a crash between a minibus and car in the Republic of Ireland.
The collision happened around a mile outside Farranfore village, County Kerry, at about 17:40 local time.
The emergency services treated it as a major incident. A police spokesman said it was believed 13 or 14 people have been hurt.
However, their injuries are not thought to be life-threatening.
The Irish state broadcaster, RTÉ, has reported that nine members of one family - two adults and seven children - were travelling in the minibus, which was towing a trailer.
It was in collision with a saloon car which was travelling in the opposite direction.
The car was reportedly carrying a family of five, including three children.
Some of the injured were airlifted to Cork University Hospital and others were taken to Kerry General Hospital in Tralee.