Greece parliament holds crucial presidency vote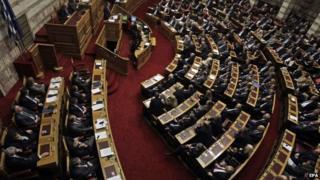 Greece's parliament is holding a third and final vote on whether to approve a president nominated by Prime Minister Antonis Samaras, in a move that could trigger a snap election.
The candidate, Stavros Dimas, has so far failed to get the constitutionally required majority.
Failure to elect him would force a fresh general election.
Opinion polls give a lead to the left-wing Syriza party, which has pledged to renegotiate the country's bailout deal.
This would put Greece on a collision course with its EU and IMF creditors, who have loaned the country billions of euros in exchange for deep cuts in government spending.
Syriza has vowed to keep Greece within the eurozone but wants to roll back some of the reforms imposed as part of the bailout deal.
"Syriza's victory in elections will jumpstart a massive national effort to save society and restore Greece," Syriza's leader Alexis Tsipras said in an article in Avgi newspaper.
Samaras warning
In the second round of voting last week, Mr Dimas obtained 168 votes, 32 short of the 200 he required.
Greece's two-party governing coalition has 155 seats and needs support from opposition or independent lawmakers to ensure a win for former EU Environment Commissioner Mr Dimas.
In the final round, he needs the support of only 180 MPs to be appointed president - a largely ceremonial role.
But few believe he has it, says the BBC's Lucy Williamson in Athens.
If he does not get the votes required, parliament will be dissolved within 10 days and general elections will be called within a month, either in late January or early February.
"The Greek people don't want early elections. The Greek people understand where this adventure could lead," Prime Minister Samaras told Greek television.
Although polls suggest Syriza would win early elections, it is not clear they would win a majority.
The Greek economy has begun to show signs of recovery after years of contraction.
But unemployment remains over 25%, and many people have had wages and benefits cut.