Calais migrant fence blown down by wind in French port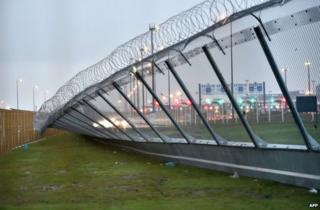 High winds have toppled part of a new metal fence erected in the French port of Calais to prevent migrants from slipping on to UK-bound ferries.
Sections of the fence, which was only put up last month, were flattened by winds of up to 160km/h (100mph), French media report.
Britain pledged £12m (15.3m euros; $18.7m) in September to improve fencing and other security in Calais.
The two countries have struggled to contain illegal migration.