County Clare: Police find cannabis worth 680,000 euros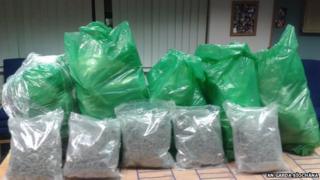 Herbal cannabis with an estimated street value of 680,000 euros (£532,000) has been seized by police in the Republic of Ireland.
Officers found 34 kilos of the drug when they searched a house in Querrin, Kilkee, County Clare on Friday afternoon.
They arrested a 24-year-old man and took him to Kilrush Garda (police) station to be questioned.
The investigation is focused on drug sales in counties Clare and Limerick.