EU needs 'long-term' Russia strategy, says Donald Tusk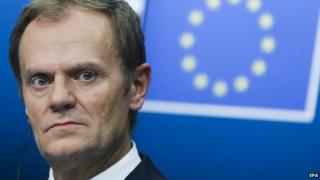 The EU needs a long-term strategy on Russia instead of simply reacting to events, the new EU summit chairman Donald Tusk has said.
Mr Tusk said he had been "really moved" by the leaders' discussion of the Ukraine crisis.
Earlier, the EU tightened sanctions against Russia over its support for armed separatists in eastern Ukraine.
"We need a plan for years… we're not too optimistic, we have to be realistic," Mr Tusk said.
"Russia is our strategic problem, not Ukraine," said Mr Tusk, the former Polish Prime Minister. "The biggest challenge is Russia's approach not only to Ukraine but also to Europe.
"Our discussion [on Ukraine at dinner] showed Europe united as never before. Russia's behaviour needs a pragmatic solution, a united, common position."
Poland, bordering on Ukraine, has long had tense relations with Russia, and is among the most vocal critics of Russian President Vladimir Putin.
Crimea targeted
Pro-Russian rebels in eastern Ukraine still have heavy weapons including tanks and rockets, despite demands by Ukraine and the West for them to disarm. Continuing clashes in the Donetsk region have undermined peace efforts.
Under the latest measures against Russia, all EU tour operators will be barred from operating in Crimea and European investment there will be banned. Russia annexed Crimea in March.
Italy's Prime Minister Matteo Renzi said "we must work with Russia to push it out of Ukraine".
And EU Commission President Jean-Claude Juncker stressed that the EU's channels of communication with Russia must remain open.
There was much surprise among the summit journalists that Mr Tusk managed to reduce the expected two-day summit to one afternoon and evening. Usually EU summits go on hours longer than planned, often into the early morning.
Investment plan
The other main topic was Mr Juncker's plan to generate €315bn (£250bn; $392bn) of private investment for infrastructure projects in the EU.
It got the leaders' approval, and the aim is to launch it next June.
Mr Juncker said the commission would "look favourably" on government participation in big investment schemes, and would "neutralise" national contributions to the new fund. That suggests more lenient deficit targets for governments that boost investment.
Italy, burdened by colossal debts and high unemployment, warmly welcomed the Juncker plan.
Mr Renzi said investment decisions would involve "politicians, not only technocrats" and he stressed that for years Italy had been urging flexibility in reaching budget targets set by the commission.
"Growth and not only austerity is the legacy of the Italian presidency [of the EU]," he said.
He and French President Francois Hollande - both centre-left leaders - have urged Germany and other pro-austerity states to encourage much-needed growth, by allowing a monetary stimulus in the eurozone.